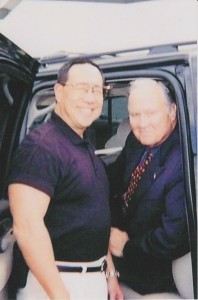 A young, elegant, and perfectly composed Cindy Schwarzkopf stood before the teary-eyed assembly in West Point's vast and upward-reaching Gothic chapel. She spoke to her family, ex-vice presidents, secretaries of state, great generals and battle-hardened, jaw-clamping warriors, these tough men of straight spines and many wounds.
"How do I honor my father, a man of exceptional gifts, in ten minutes? Doing right was his guide — get it done and get it right."
Three years and four days ago, we lost one of our now very rare national heroes. In the words of the black streets which were my home, General H. Norman Schwarzkopf, The Bear, had gone up a yonder to meet his Maker and to take his reward.
He had committed his character and genius to living fearlessly in selfless service to concepts greater than himself. By demonstrating unwavering fidelity under a self-imposed rule of courage and principles, he had achieved the Cervantes goal of achieving victory over self and had met the Horace Mann standard of winning a victory for humanity. The Bear was our last liberator of other peoples and the admired ring champion over an unquestioned tyrant. After retirement, instead of seeking power and wealth, he spent his time with family while quietly funding and serving charities for terminally ill children.
Nearing the 25th anniversary of the American victory in Desert Storm, it's easier for us to celebrate Frank Sinatra's cool, sensual rock star life-style than to cement within ourselves the character of a Soldier who took great wounds for his beloved Soldiers and nation, and whose great sins were outbursts at senior officers and a weakness for chocolate chip mint ice cream.
The Bear passed two days after Christmas, a holiday he cherished. Now, on New Year's Eve, I thank him for his giving of his life to the development of leaders of character. I think this is the second greatest gift any one can give to others, for it produces persons who will fight fiercely to get it right, instead of fight selfishly to get More.
Thank you, sir. I will not forget you.