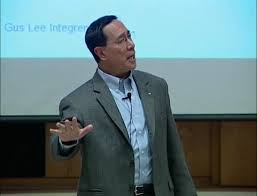 I'm giving talks in October for a new book about my mentor's radical leadership beliefs. Erma Bombeck once said she'd return her advance royalties if the publisher spared her from the dreaded public-speaking author tour. I agreed when my first book, China Boy, catapulted me into a 16-city national author tour with numerous daily media events while I lived for two months on turkey sandwich midnight dinners. Now, with a seventh book, I'm still relying on the sage counsel of my mentor, four-star General H. Norman Schwarzkopf, aka "The Bear."
We first met when I was a 20-year old West Point cadet; he was the scariest engineering prof in history. But he cringed at my public speaking – I was paralyzed at the podium, head down, reading fast so I could rapidly exit stage left. I said I'd prefer a root canal to giving the graded talk that was required of junior-year cadets.
He bared his teeth and rubbed his hands as if Christmas had come early. "Great! You need to correct this just to live right. And to pass the class." Then, failing a single class meant expulsion from the Academy. Adopting me as his science project, the Bear labored on my weak character by having me practice that which I wished to avoid. He pounded on my well-developed immaturities and anxieties by requiring me to practice the behaviors of courage so I could develop the habits of courage.
He gave me five points which equipped me to brief infantry units and commanding generals; deliver Army ethics talks; perform 200 jury trials; testify before legislators; survive six author tours; train 140,000 attorneys; and earn a living by giving executive leadership skills programs – unimaginable jobs for a person who feared public speaking.
The Bear's points:
"First, do your homework. Know your subject matter so well that you can distill it down to its clarified essence. You're the vessel to deliver the essence to others."
"Second, practice the talk enough so you don't have to read it. Ditch the podium. Practice delivering the essence, again and again. Preparation erases fear.
"Third, focus on helping people with the message. Serving others erases anxiety.
"Fourth, do lots of talks. Don't quit because of discomfort. Practice, practice, practice.
"Fifth, improve. Study the speaker evaluations and quickly correct your faults."
It's a fine day in the Pacific Northwest and I'm thinking of our universally shared fear of public speaking. I still feel like Bombeck, but I had practiced with Schwarzkopf.
The Bear faces you and asks, "What behaviors do you practice to face your fears at the podium?"