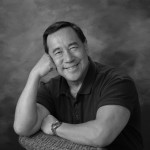 I'm a nationally-recognized resiliency and leadership consultant across fifty professions and industries: small businesses, Fortune 500s, government agencies, schools, non-profits and the military. It's not bragging; I've simply been around a long time. I've written seven books. Courage: The Backbone of Leadership (Jossey-Bass 2006), has been the keystone work. In October of 2015 Smithsonian Books published With Schwarzkopf: Life Lessons of The Bear, which recounts how this world-famous leader mentored me to focus on creating a lifelong commitment to improving as a man of character instead of as a seeker of wealth, status, and power.
This is my personal blog. It's focused on Courageous Leadership, Conflict Resolution, Character-based Education and Resiliency. Courage is the real deal. Courage embraces every corner of our lives to guard us against the reign of fear. Products of fear include dismay and fatigue; products of courage include improved relationships, cheerfulness, helping others, leadership, teamwork, grit (perseverance to task), resiliency in face of stress, upgraded results, contentment, and an inner happiness.
As a recovering coward, I've seen the absence of courage create self-serving, fear-driven, reactive management and failed leaders. I've seen fear and conflict avoidance blow up values, cripple relationships, shatter families and break the spines of organizations. As an author, I know how words can instruct, heal and redeem.
I write what I've lived. Changing my fearful behaviors led me to advocate leadership that transforms, courageous communication that solves problems, gutsy relationship building that improves breathing and courageous conflict resolution that neutralizes the acidic parts of work. I write about ethics and how to be a writer.  The blog will be about what's central in our lives. This includes writing: storytelling is our oldest method to convey morals and character.
We like to think that only people with formal titles are leaders. It's not true. We'll explore how every-day interactions, regardless of rank, provide endless opportunities to lead courageously.  We'll discuss the Missing How's to overcome fear and lead effectively. I will learn from you. I'm excited to open this conversation with you as we develop and grow a courageous community. I'll be posting about three times a week. You can subscribe via RSS or e-mail.
My Biography
I'm an American who came from poverty and self-doubt. YMCA boxing coaches coached and mentored me to live rightly despite my fear. I've worked on courageous leadership and ethics for most of my life. I've been a corporate chief operating officer, senior VP, corporate chief learning officer, government senior executive, the senior executive for legal education for the State of California, the lead legal trainer for California's prosecutors, a professional association deputy director, a supervising deputy district attorney, acting deputy attorney general, university assistant dean and an Airborne-qualified Army officer and drill sergeant. I recently completed tenure as the Chair of Character Development at the United States Military Academy at West Point, where I was mentored by H. Norman Schwarzkopf. Starting in the military, I have been a four-time whistle blower.
I became a novelist with best-sellers China Boy (1991), Honor and Duty (1994), Tiger's Tail (1996) and No Physical Evidence (1998). Each was autobiographical fiction centered on courageous decision-making and leadership. Chasing Hepburn (2002) was a memoir of my parents' lives in China and their hazardous flight to America. This began my work in non-fiction.  Diane, my wife of 33 years, and I co-authored the best-seller and award-winning, Courage: The Backbone of Leadership (2006), a book used by corporations, business schools and the Army. I've written for Time and been on CNN, CBS This Morning, PBS's Fresh Air and the VOA. I've been taught valuable lessons by strong, courageous and wise mentors. I'll share what I've learned.
Bios tend to sound like economic resumes. Aren't they really instead, moral journeys in a world of key relationships, interspersed by jobs, learning, and change-inducing dramatic events?